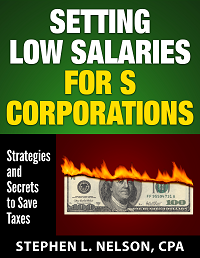 Are you a CPA or attorney helping clients with their S corporations?
Or maybe an experienced S corporation shareholder who needs to be smarter (or safer) about the way you've set your salary?
We've published a popular downloadable e-book (price $50, just under 100 pages) about setting a low yet reasonable S corporation salary that may be useful to you.
Instantly Downloadable
Instantly downloadable, our "Setting Low Salaries for S Corporations" monograph should help you reasonably set salaries for shareholder-employees and thereby reduce payroll taxes safely.
Note: The S corporations monograph has been updated for the Section 199A final regulations.
Purchase and Download
Click the button below to add Setting Low Salaries for S Corporations to the cart:
What's Inside