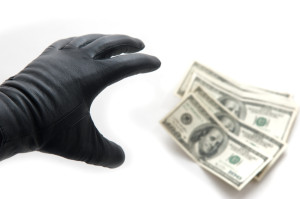 Employee theft is extremely common, unfortunately. People steal office supplies in the fall (to use as school supplies for the children), deal with vendors who provide kickbacks (often in the form of expensive gifts and services), and sometimes even find clever ways to steal inventory and pilfer cash.
Most people don't steal, but embezzlement does happen; so it makes sense for you to consider what you can do to minimize your employees' opportunities to steal. Here are some simple ideas you can use to reduce your chances of becoming a victim.
Sign Checks Yourself
It's a good idea to sign all checks—even small ones—yourself. This can be a lot of work (as a corporate controller, I used to sign about $100,000 of checks every week), but you can have an employee prepare the checks for your review and signature.
The benefit of signing all your checks is that your signature will be a requirement for money to leave the business. No cash will be deducted from the business bank account without your knowing about it.
If you sign all checks, an employee who wants to steal cash from you might try to convince you to write a check that the employee can cash. (You wouldn't write out, say, a $1,000 check to the employee without asking questions.)
This means that the employee would need to set up a fictitious vendor and then convince you to pay this vendor some amount. Or the employee might have you pay someone the employee needs to pay anyway. (I saw an employee have the employer write a check that paid the employee's Visa bill.) By carefully reviewing the checks that you sign, you minimize the employee's opportunities for committing these crimes.
If you'll be on vacation for, say, a couple of weeks, the business will probably need to pay some bills while you're away. You can deal with this in a couple of ways. You can decide to trust an employee enough to leave behind a signed check or two; the employee can then use these signed checks to pay for things such as an unexpected C.O.D. shipment. Or you can decide to simply require vendors to wait.
If you leave signed checks, be sure to leave specific instructions as to what these checks should be used for, and review the checks when they come back from the bank to be sure that your instructions were followed.
Review Canceled Checks
Be sure to intercept the bank statement when it comes and review the canceled checks. (An easy way to do this is to have the bank send the bank statement to your home.) This way, you can make sure that no one is forging your signature and writing a check or two for nonbusiness reasons.
This might seem unlikely, but if your business writes a hundred checks a month totaling tens or hundreds of thousands of dollars, would you really notice an extra check or two if the amounts were "only" a few hundred dollars?
Separate Mailroom Duty from Bank Deposit Duty
One of the most common ways to embezzle money from an employer is called lapping. To lap, an embezzler skims a little bit of the cash that comes in each month and then adjusts the books to hide the skimming.
As long as the person skimming the cash also maintains the checkbook, it's easy for the theft to go unnoticed. The embezzler simply ignores or hides the fact that, for example, the $500 Customer A owes you has been paid.
You can minimize the opportunities for lapping if you have one employee open the mail and make a list of the incoming cash and another employee enter the bank deposit information into the checkbook.
For this approach to work, you simply compare the list of incoming cash maintained by the mailroom person with the bank deposit information shown in the check, and you contact customers about past-due payments. This way, you can discover, for example, that Customer A actually paid the $500 owed and that the check has cleared the bank.
Protect Other Valuable Assets
From an embezzler's perspective, cash is the most convenient item to steal. It's portable, easy to store, and easy to convert to other things an embezzler might want.
Because cash is usually watched so closely, however, embezzlers often steal other items of value, such as office equipment, inventory, and supplies.
You can follow a couple of general rules to minimize losses such as these. You can keep a record of the things that your business owns and periodically compare what your records show you have with what you actually hold.
If you buy and sell inventory, for example, keep a record of what you buy and sell. Then, once a month or once a year, compare what your records show with what you have in your warehouse or storeroom.
If you buy and sell inventory in your business, by the way, Quicken will not meet your needs. If you're in this situation, consider upgrading from Quicken to a small business accounting system that tracks inventory, such as Intuit's QuickBooks Pro for Windows or Peachtree Accounting for Windows.
You can also restrict access to any valuable assets that the business owns. Warehouses and storerooms should be locked. Access should be limited to people who really need what is being kept behind lock and key.
If you have items of high value in a storeroom, for example, and several employees have access, it's also a good idea to make it a rule that people go into the storeroom only in pairs. (A dishonest employee is less likely to steal if someone else is present who may see and report the theft.)
Require Vacations
There's a final embezzlement prevention tool that many big businesses use and that you should probably consider: Require regular vacations of a week or two. (Banks almost always do this.)
Here's the rationale: Some embezzlement schemes are so clever that they're almost impossible to catch. The one typical weakness of these super-clever schemes, however, is that they usually require ongoing maintenance on the part of the embezzling employee.
By making the employee take a vacation, you can see what happens if the employee's not around. Here are a couple of examples. One embezzler who managed a concession stand had a simple but clever technique: He always pocketed a few hundred dollars of cash sales each week. This scheme worked for years. The owner assumed that cash sales were typically about $4,000 a week, even though they were really quite a bit more than that, and that he was losing about $200 a week of ice cream cones, soda pop, and popcorn because of spoilage and, perhaps, a little shoplifting.
The concession stand manager never did take a vacation, but he did eventually have a heart attack. And a funny thing happened. Cash sales increased overnight (literally). Even more dramatic, profits jumped because sales increased while expenses stayed level.
When the owner looked into the situation in the employee's absence, he figured out that sales and profits had increased because the employee was no longer pilfering cash from the till.
Another embezzler who got tripped up by a vacation requirement was a salesman selling profitable remodeling jobs for a company I'll call XYZ Construction. His scheme was to have every fourth or fifth job done by a company he had set up, which I'll call XYZ Remodeling. He regularly used the resources and reputation of XYZ Construction to sell a remodeling job for XYZ Remodeling and thereby collect the 40 percent profit his employer (XYZ Construction) would have made rather than his usual 10 percent sales commission.
As long as he stayed in town, his little ploy worked reasonably well. He could answer all his telephone calls—both those from XYZ Construction customers and those from XYZ Remodeling customers—and handle any problems that surfaced for either set of customers.
When he went on vacation, however, the whole thing blew up as soon as an XYZ Remodeling customer called XYZ Construction to ask about a remodeling project in progress.